2010
10.29

NTV Enters into Cooperative Agreement with China's Xinhua News Agency
Media Companies Representing Japan and China Establish Future-Oriented Partnership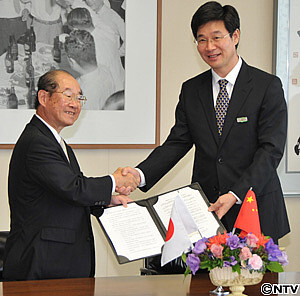 Nippon Television Network and Xinhua News Agency Complete Signing of Cooperative Agreement (October 19, 2010)
(left) Mr. Noritada Hosokawa, President of NTV (right) Mr. Lixin Xia, President of Xinhua Tokyo Bureau
Nippon Television Network Corporation (NTV), represented by Mr. Noritada Hosokawa (NTV Representative Director and President), concluded a cooperative agreement with China's Xinhua News Agency (Xinhua), represented by Mr. Congjun Li (Xinhua President) on October 19, 2010, with the purpose of mutually cooperating in the field of broadcasting. Details of the cooperative agreement include wide-ranging mutual cooperation in the areas of broadcasting and related matters. In addition to the cooperative agreement, a memorandum regarding cooperation in the field of newsgathering was also agreed upon. As this is the first time that Xinhua has signed a cooperative agreement with a Japanese television network, NTV plans to work to establish a future-oriented partnership of close cooperation with Xinhua, a media company that represents China.
Through this cooperative agreement with Xinhua, who holds an extensive newsgathering network both within China and overseas, NTV expects to be able to facilitate newsgathering in China as well as expeditiously secure Chinese news footage, which has become increasingly important. Furthermore, we aim to mutually cooperate with overseas newsgathering.
NTV would like to take this opportunity to further contribute to fostering mutual understanding and developing a cordial relationship between Japan and China.
*Xinhua News Agency
Xinhua News Agency is the official press agency of the People's Republic of China (PRC) and is subordinate to the State Council of the Chinese government. The broadcast arm of Xinhua established China Xinhua News Network Corporation (CNC) and currently operates a full-fledged, global 24-hour satellite broadcast in Chinese and English.
Public Relations
Corporate Administration
Nippon Television Network Corporation