2020
1.14

Dragons' Den reaches milestone 40th adaptation.
GLOBAL HIT FORMAT DRAGONS' DEN REACHES MILESTONE 40TH ADAPTATION
France becomes the latest territory to bring the hugely popular format to viewers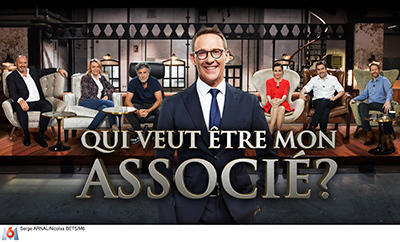 The milestone 40th adaptation of hit entrepreneurial format Dragons' Den launched today. The World's number one business reality television show begins on France's M6 Network today and runs across 6 episodes.
Since launching in 2001 as Money Tigers on Nippon TV in Japan, the format has become a phenomenal worldwide success. Produced in territories on every continent, the format sees aspiring entrepreneurs pitch to secure investment from some of the top names in the business world - and so far, over $250m has been invested in small businesses across the globe. The show continues to find new audiences too, airing for the first time in 2019 to great success in Hungary on RTL Klub, in Thailand on Channel 7 Wandee Media, and on Switzerland's CH Medien TV24, with the format being developed in further territories including Bangladesh.
Sarah Edwards, SVP International Creative Development, Sony Pictures Television, says: "We are absolutely thrilled to reach this milestone for Dragons' Den and be bringing the format to France. It's a testament to the universality of the format that it continues to resonate with viewers around the world."
Atsushi Sogo, President, International Business Development, Nippon TV, says: "I am so proud of the team at Sony Pictures Television and our team at Nippon TV International Business Development who first came together in 2003 to create a globally successful business show format. Thanks to the tremendous efforts by Sony, Dragons' Den is now an international brand with versions in territories across all continents of the world with 40 versions airing in 186 countries; this is a huge milestone in the competitive format business world. The show is on its 17th season on BBC Two in the U.K. and 11th as Shark Tank on ABC in the U.S. and we have very high hopes for the French version to follow in their footsteps."
Dragons' Den is distributed around the world by SPT under a number of variant titles, from Shark Tank (in the United States, Mexico, Colombia, Brazil and Vietnam); to Lions' Den (Germany, Denmark, Kenya); and Dragons' Den (including in the United Kingdom - where it has aired for the longest run, a record breaking 17 seasons, becoming the No.1 Factual Entertainment series on BBC Two). The French version puts business to the fore and airs under the title which candidates will finish their pitches with: 'Qui Veut Etre Mon Associé?' - which translates as Who Wants To Be My Partner?
The SPT format has won over 30 awards globally. In the United States, Shark Tank has won the Emmy for Outstanding Structured Reality Program for four years running, while in Canada, Dragons' Den took home four Canadian Screen Awards for Best Reality Series. The German version of the show, Die Höhle der Löwen, also won the German Chamber of Industry and Commerce's Ernst-Schneider Award for Innovation and Entertainment in 2015, the German Television Awards in 2016 for Best Factual Entertainment and continues to break viewing ratings for VOX. In the United Kingdom, Dragons' Den won three Royal Television Society Awards as Best Factual Entertainment Series.
About Sony Pictures Television:
Sony Pictures Television (SPT) is one of the television industry's leading content providers, producing and distributing programming worldwide in every genre and for every platform. In addition to managing one of the industry's largest libraries of award-winning feature films, television shows and formats, SPT is home to a thriving global production business operating 21 wholly-owned or joint venture production companies in 12 countries around the world. Sony Pictures Television is a Sony Pictures Entertainment Company.
About Nippon TV
Nippon TV is Japan's viewer ratings champion, topping all timeslot categories for six consecutive years and garnering the largest profits in the country's broadcasting industry. One of the biggest successes for the nation's finest producer of all genres of programming is "Dragons' Den", a globally successful business show format that has 40 versions airing in territories across all continents of the world. The Emmy Award-winning version, "Shark Tank", airs in the US. Following closely are the successes of scripted formats "Mother" and "Woman -My Life for My Children-", whose Turkish versions have become mega-hits that have gone on to sell in nearly 40 territories around the world. As formats, "Mother" has also been sold to South Korea, Ukraine, and France. With well-established businesses that span VOD / live-streaming engineering, animation, movies, events, fitness clubs, eSports, android creation, and digital mixed reality, Nippon TV is leveraging its coveted platform to revolutionize digital media in an ever-changing industry. Launching a channel in Southeast Asia named GEM through a joint venture with Sony Pictures Television Networks, and leading the Japanese digital content market through its subsidiary Hulu Japan, Nippon TV is steadily solidifying its presence and brand as a global media powerhouse.