2014
1.15

"Pharaoh!" Remake to be Broadcast in Thailand
Nippon Television Network Corporation (Nippon TV) is proud to announce that the Thai remake of "Pharaoh!" is set to begin broadcasting on January 17, 2014 on Thailand's Channel 9, a major terrestrial broadcaster. "Pharaoh!" is a popular Nippon TV game show that was broadcast in Japan as a regular program from July 2011 to February 2013, and is still broadcast as a special program several times per year.
The Thai remake is a joint production between KANTALUCKS, a newly-established company borne out of the merger between major Thai production companies Kantana and Lucks, Yoshimoto Entertainment Thailand, a subsidiary of Yoshimoto Kogyo Co., Ltd., and Nippon TV. The project was selected and subsidized by Japan's Ministry of Internal Affairs and Communications, as part of its FY2012 Supplementary Budget for Research and Study on International Joint Production in Asia.
The game show will air on Thailand's Channel 9 weekly on Fridays from 20:30 to 21:30 for an entire year. The set for the Thai remake was constructed in Kantana's studio, located on the outskirts of Bangkok. The Japanese production team visited the set on several occasions to provide direction.
The show's facilitator, "Pharaoh", which is played in Japan by Ryota Yamazato of Nankai Candies, will be played in Thailand by comedian Hoy Keatisak Udomnark, who is hugely popular among Thailand's younger population. Willy Ruengrit McIntosh, popular actor and Lucks representative board director, will be the show's emcee. During the promotional event held at a Bangkok department store on January 11th, which was National Children's Day in Thailand, the two stars wore the show's costume and delighted the many fans who attended.
Nippon TV will continue to explore opportunities for Thailand and Japan to jointly produce programs.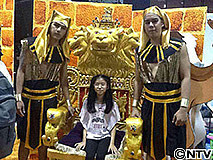 Children's Day Event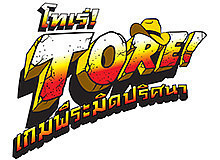 Program Logo of the Thai Remake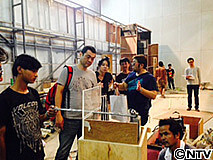 Consultations with the Japanese Team
(All photos shot in Bangkok, Thailand.)
Nippon Television Network Corporation
Public Relations