2022
3.10

Nippon TV Holdings enters into strategic collaboration with Disney
Both companies extend long-term partnership to co-produce local language content for global audiences
Nippon TV's new Sunday drama series "The Files of Young Kindaichi" will stream on Disney+
in Japan and worldwide for the first time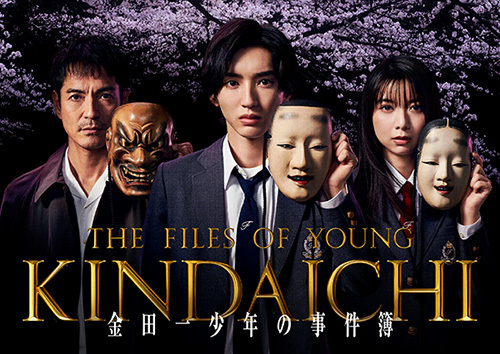 Tokyo, March 10, 2022 – Nippon TV Holdings, the leading diversified international media organization and the parent company of Nippon TV, today announced a strategic collaboration with The Walt Disney Company (Japan) Ltd., one of the world's leading entertainment companies. The collaboration will include co-production of local language content ranging from drama series, animation to variety shows on Disney+ for both Japanese and global audiences and the availability of both companies' content on their respective platforms.
The latest edition of Nippon TV's popular drama series "The Files of Young Kindaichi" (starring Shunsuke Michieda from Naniwa Danshi) will begin broadcasting on Nippon TV from April 2022 and thereafter will be made available on Disney+ for Japanese and worldwide audiences. This marks the first time that Nippon TV content will become available to viewers globally on Disney's Direct-to-Consumer platform.
Yoshikuni Sugiyama, Representative Director, President, Nippon Television Holdings, Inc., commented, "Disney is a world leader in entertainment and a long-standing important partner for us. Over the years, we have worked together on many business initiatives, notably our broadcast of Disney titles on "Friday Roadshow". It is an incredible honor to be able to develop our relationship further and join forces to advance our global expansion. I look forward to leveraging the creativity, vast reach, and brand power that both companies possess to deliver Japan's content to viewers the world over."
"As Disney moves into the world of local content production, we are excited to expand our collaboration with Nippon TV Holdings as one of our strategic partners, starting with a very popular title to audiences across Asia Pacific," said Carol Choi, Managing Director, The Walt Disney Company (Japan) Ltd.. "This is a perfect fit for Disney as we focus on stories that connect people across generations and places, and stories that move people. We look forward to more long-term collaborative opportunities with Japanese creators, so as to bring the world's best stories and Japan's creative excellence to the global stage."
About "The Files of Young Kindaichi"
Based on an original manga boasting over 100 million copies in circulation across 12 countries which also has an immense popularity as an anime series, this marks the fifth season of "The Files of Young Kindaichi" as a TV series.
The series is a mystery-solving drama with a rich history since its debut on Nippon TV in 1995, garnering huge ratings each time a new series aired.
・Title: The Files of Young Kindaichi
・First episode broadcast slot: Sunday, April 24 22:00 (first episode extended by 30 minutes)
・Cast: Shunsuke Michieda (Hajime Kindaichi), Moka Kamishiraishi (Miyuki Nanase), Ikki Sawamura (Isamu Kenmochi)
About Nippon TV Holdings
Nippon Television Holdings, Inc. is a leading diversified international media organization with over 50 subsidiaries and affiliates. It became the first company to enter the commercial broadcasting business in Japan and has expanded to operate the following segments: Media Content Business, Life and Health-Related Business, and Real Estate-Related Business. Nippon Television Network Corporation (Nippon TV), ratings champion broadcaster and owner of streaming giant Hulu in Japan, is the main driver of the Media Content Business segment. The Life and Health-Related Business segment's main pillar is TIPNESS Limited, which operates comprehensive fitness clubs. The Real Estate-Related Business segment generates rental and leasing income from tenants in the Shiodome and Bancho districts of Tokyo. Nippon Television Holdings, Inc. was established in October 1952 and is headquartered in Tokyo, Japan. For more information, please visit https://www.ntvhd.co.jp/english/
About Nippon TV
Nippon TV is Japan's leading multiplatform entertainment powerhouse and ratings champion broadcaster, as well as owner of streaming giant Hulu in Japan. Over 90% of its content IP is fully owned by Nippon TV and the company has been active in bringing its content to the international market in the form of ready-made programs, formats, and through co-production partnerships. One of the biggest successes for the nation's finest producer of all genres of programming is the Emmy Award-winning Dragons' Den/Shark Tank, a globally successful business show format that has 45 versions in more than 186 countries across all continents of the world. Additionally, their hit drama series Mother has also achieved global success as the most exported scripted format out of Asia, with its format sales to South Korea, Turkey, Ukraine, France, Thailand, China, Indonesia, and Spain. The company is also known for its viewer engaging gameshow formats. BLOCK OUT is an action-packed game show format that has been adapted in Thailand, Indonesia, Vietnam, Spain, and Holland. The award-winning unscripted format Mute it!, and Sokkuri Sweets, have both been produced in the Netherlands. Sokkuri Sweets/Eye Candy is on The Roku Channel in the US, UK, and Canada. As evident by the company's success, Nippon TV is leveraging its coveted platform to revolutionize digital media in an ever-changing industry to solidify its presence and brand as a global media leader.
About The Walt Disney Company
The Walt Disney Company, together with its subsidiaries and affiliates, is a leading diversified international family entertainment and media enterprise that includes Disney Parks, Experiences and Products; Disney Media & Entertainment Distribution; and four content groups—Studios, General Entertainment, Sports and International—focused on developing and producing content for DTC, theatrical and linear platforms.
For more information, please visit https://thewaltdisneycompany.com/
About Disney+
Disney+ is the dedicated streaming home for movies and shows from Disney, Pixar, Marvel, Star Wars, and National Geographic, along with The Simpsons and much more. In select international markets, it also includes the new general entertainment content brand, Star. The flagship direct-to-consumer streaming service from The Walt Disney Company, Disney+ is part of the Disney Media & Entertainment Distribution segment. The service offers commercial-free streaming alongside an ever-growing collection of exclusive originals, including feature-length films, documentaries, live-action and animated series, and short-form content. With unprecedented access to Disney's long history of incredible film and television entertainment, Disney+ is also the exclusive streaming home for the newest releases from The Walt Disney Studios. Disney+ is available as a standalone streaming service or as part of The Disney Bundle that gives subscribers access to Disney+, Hulu, and ESPN+. For more, visit disneyplus.com, or find the Disney+ app on most mobile and connected TV devices.