2020
8.28

"Mute it!" wins Best TV Format Adaptation Award
"MUTE IT!" WINS BEST TV FORMAT ADAPTATION
AT CONTENT ASIA AWARDS 2020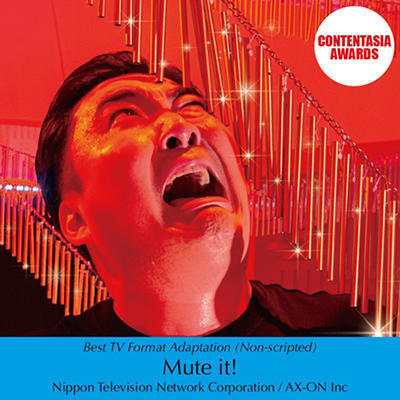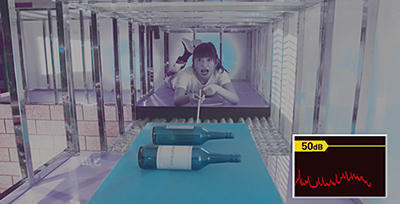 TOKYO, JAPAN - August 28, 2020 - Nippon Television Network Corporation (Nippon TV), Japan's leading multiplatform entertainment powerhouse, announced today that its primetime mega hit non-scripted game show Mute it! won Best TV Format Adaptation (Non-scripted) at its first ContentAsia Awards ever held on August 28, 2020 in Singapore. The inaugural awards ceremony was live streamed from the virtual ContentAsia Awards Theatre, an unique attempt to highlight the great demand for sreen-based content in this pandemic moment.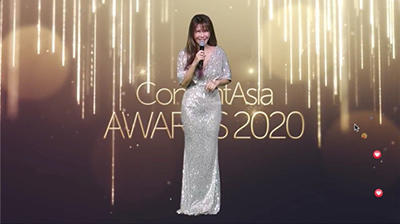 This simple and unique show where the winner is the one who makes it to the end of the giant stage without making a sound, is a show that can be produced even in these difficult times. Nippon TV produced a new episode in August with preventive measures and the show aired on prime time with remarkable ratings from the young demographic.
The silent games in this format keeps evolving each time it is produced, making the challenges more difficult heart beating to watch. The show has a tremendous following in Japan, especially among children, teenagers, and their family watching the show together, all holding their breath and trying not to make a sound even though they are watching the show on TV. This title is now available as a non-scripted format as well as a finished series.
"Pulling a tissue quickly out of the box-that's all it takes to hit 50 dB, which is the maximum allowed by the show's rules. "Mute it!"would not have been possible without the hard work of the camera crew who breathed softly while taping, the sound team who persistently captured the silence, and the art team who created a set that makes absolutely no sound. The entire staff endured suffocatingly tense conditions to create this show, and I am truly honored for this recognition. Thank you." Commented Mr. Hidekazu Arai, Producer, Production Division, Nippon TV.
"Thank you Content Asia for this honor on your first ever awards. We would like to bring a new kind of joy and "tranquility" from Nippon TV to the international content industry with this format," commented Mr. Atsushi Sogo, President of International Business Development for Nippon TV.

ABOUT ContentAsia Awards
The ContentAsia Awards are owned and operated by ContentAsia, a 14-year-old information platform curated to offer insights into Asia's content environment.
The Awards are an extension of ContentAsia's day-in-day-out year-round dedicated focus on and connection with Asia's content industry.

ABOUT NIPPON TV
Nippon TV is Japan's leading multiplatform entertainment powerhouse and ratings champion broadcaster as well as owner of streaming giant Hulu in Japan. One of the biggest successes for the nation's finest producer of all genres of programming is the Emmy Award-winning Dragons' Den/Shark Tank, a globally successful business show format that has more than 40 versions in 186 territories across all continents of the world. Following closely are the successes of scripted formats Mother and Woman -My Life for My Children-, whose Turkish versions have become mega-hits that have gone on to air in nearly 40 territories around the world, a first for a format from Japan. Mother has also been sold to South Korea, Ukraine, France, Thailand, and more, making it one of the most exported formats out of Asia. The company is also achieving great success with BLOCK OUT, its action-packed game show format that has been sold to Thailand, Indonesia and Vietnam, Spain and Holland. Over 90% of its content IP is fully owned by Nippon TV, in addition to well-established businesses that span VOD/live-streaming engineering, animation/film production, fitness clubs, eSports, and android creation/digital mixed reality technology. Nippon TV is leveraging its coveted platform to revolutionize digital media in an ever-changing industry to solidify its presence and brand as a global media leader.