2020
9.28

Nippon TV and The Story Lab unveil "9 Windows"
Nippon TV and The Story Lab unveil "9 Windows"
Comedy gameshow-meets-talent contest to launch at Mipcom 2020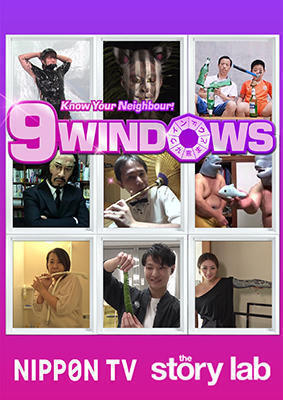 • "9 Windows" is the first entertainment format to be launched by the partnership between Japan's Nippon TV and global production and distribution studio, The Story Lab
• Celebrating ordinary people with astonishing abilities, "9 Windows" premiered on Nippon TV on 24th September and outperformed all the competition in its time slot
• The Story Lab and Nippon TV are bringing "9 Windows" to the international marketplace for the first time at MIPCOM 2020

Japan's multi-platform entertainment network, Nippon TV, and Global production and distribution studio, The Story Lab announced details of their new entertainment format, "9 Windows", the first title to be launched by their recent co-development partnership.
"9 Windows" is a funny and fast paced gameshow-meets-talent contest celebrating ordinary people with outlandish skills. Set in an iconic, interactive studio, each episode features nine contestants with astonishing and unusual abilities, all beamed in from their home through 'nine windows' - giant studio screens.
Across three hilarious rounds, the contestants compete for a cash prize by mesmerizing a studio jury with their hidden talent - whether it's balancing any household object on top of another, using incredible knife skills to slice things into any shape or using 3D makeup to turn a woman's arm into a shockingly lifelike snake.
Throughout the series, a famous comedy host keeps the laughs coming and action running in this highly original show, which includes viewer play-along at every stage.
"9 Windows" launched on Nippon TV on 24th September, outperforming all the competition in its timeslot. The Story Lab and Nippon TV are bringing the format to the international marketplace for the first time this October, at MIPCOM 2020.
Shigeko Cindy Chino, Associate Managing Director of International Business Development for Nippon TV comments: "The launch of '9 Windows' has had an incredible response in Japan, and we are excited to see it begin its international journey, thanks to our partnership with The Story Lab. The format has an irresistible mix of jaw dropping talent and game show jeopardy that gives it truly global appeal and the potential to travel fast."
Fotini Paraskakis, The Story Lab's EVP, Entertainment, adds: "The brilliant fun and originality of '9 Windows' is testament to the level of creativity that is driving our partnership with Nippon TV. By cleverly combining a gameshow and talent competition, this highly innovative format brings a fresh twist to entertainment programming that feels exciting and unique."
Nippon TV and The Story Lab first announced plans to enter into a co-development partnership in December 2019. The partnership is focused on creating original entertainment formats that are scalable and returnable across multiple territories. International distribution of all titles launched by the partnership is jointly managed by Nippon TV and The Story Lab.

ABOUT NIPPON TV
Nippon TV is Japan's leading multiplatform entertainment powerhouse and ratings champion broadcaster as well as owner of streaming giant Hulu Japan. One of the biggest successes for the nation's finest producer of all genres of programming is the Emmy Award-winning Dragons' Den/Shark Tank, a globally successful business show format that has more than 40 versions in 186 territories across all continents of the world. Following closely are the successes of scripted formats Mother and Woman -My Life for My Children-, whose Turkish versions have become mega-hits that have gone on to air in nearly 40 territories around the world, a first for a format from Japan. Mother has also been sold to South Korea, Ukraine, France, Thailand, and more, making it one of the most exported formats out of Asia. The company is also achieving great success with BLOCK OUT, its action-packed game show format that has been sold to Thailand, Indonesia and Vietnam, Spain and Holland.
Over 90% of its content IP is fully owned by Nippon TV, in addition to well-established businesses that span VOD/live-streaming engineering, animation/film production, fitness clubs, eSports, and android creation/digital mixed reality technology. Nippon TV is leveraging its coveted platform to revolutionize digital media in an ever-changing industry to solidify its presence and brand as a global media leader.
ABOUT THE STORY LAB
The Story Lab is a global entertainment studio, headquartered in London with offices in 23 markets, including Los Angeles, Shanghai, Madrid, Mexico City, Paris, Moscow, Hamburg, and Mumbai.
Founded in 2015, The Story Lab finances, develops, produces and distributes entertainment formats, series and films, working closely with creators, producers and IP owners around the world. Being part of Dentsu Aegis Network and Dentsu Inc, The Story Lab provides entertainment marketing consultancy, production and distribution services to many global brands and advertisers.
The company's extensive slate includes breakout international prime time TV formats 'Ninja Warrior', 'Game of Clones' and 'All Star Driving School', global Netflix film release 'The Coldest Game' and a number of dramas, docuseries and podcasts in development.
The Story Lab currently employees 300 entertainment, marketing and investment professionals across the world.