2020
10.9

Abandoned to air in Turkey
NIPPON TV'S ABANDONED SET TO AIR ON FOX TURKEY STARTING
OCTOBER 9TH THANKS TO PREVIOUSLY ANNOUNCED DEAL WITH MEDYAPIM/MF YAPIM
FOR THE TURKISH SCRIPTED FORMAT RIGHTS
Turkish version COCUKLUK to feature child stars from Anne (Mother in Turkey) and Kadin (Woman - My Life for My Children - in Turkey)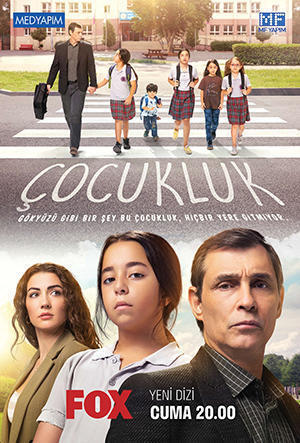 TOKYO, JAPAN - October 9, 2020 - Having recently announced their sixth deal together, Nippon TV, Japan's leading multiplatform entertainment powerhouse, announced today FOX Turkey is set to start airing Cocukluk, the Turkish version of its hit series Abandoned, on Friday, October 9th. Created and produced by Medyapim and MF Yapim, two of the leading production companies in Turkey, Cocukluk features Beren Gökyıldız from Anne (adaptation of Nippon TV's Mother) and Kübra Süzgün from Kadin (adaptation of Nippon TV's Woman - My Life for My Children). Anne and Kadin now air in over 40 countries around the world. Cocukluk means "childhood" in Turkish. The announcement was made jointly today by Ms. Mikiko Nishiyama, Managing Director of International Business Development for Nippon TV, and Mr. Fatih Aksoy, President of Medyapim.
"We were once again thrilled to hear that Abandoned was going to be produced by the hit making creators Medyapim and MF Yapim, and air on FOX Turkey immediately after the enormous success of Kadin, the remake of our Woman -My Life for My Children-. Cocukluk features two Turkish superstar child actresses who were the lead characters in their remake of our Mother (Anne), and Woman -My Life for My Children- (Kadin)," commented Ms. Nishiyama.
"We are so honored that Medyapim and MF Yapim took the same strategy that we did when we created Abandoned for the Japanese audience in casting these amazing young talents. It is very humbling to see how our format helped in bringing light to these young generations and we have so much confidence that this story will touch audiences with their proven strong performance, not only in Turkey, but also around the world," added Ms. Nishiyama.
"This will be the fourth collaboration of Nippon TV-Medyapim-MF Yapim after Mother, Woman and The Teacher. The first three series attained great success both in Turkey and around the world. I believe that with the power of its story and its talented cast, this series will also achieve great success," commented Mr. Aksoy.
Nippon TV, Medyapim and MF Yapim have announced six deals to date: Mother, Woman -My Life for My Children-, Mr. Hiiragi's Homeroom (The Teacher), and Abandoned, with, My Son and OASIS -a love story- set to be produced shortly.
Abandoned was also adapted in Thailand in 2019 and became an instant hit with the local viewers, first streamed on LINE TV, and now streaming on Netflix. It also became the 'Best Drama for Family and Society' at Thai's prestigious Maya Awards in 2019.
Abandoned is a touching drama seen through the eyes of children facing the harsh reality of life in an orphanage. While facing many challenges, these young children long to be adopted. Only after agreeing to become a member of a new family, the orphans
learn of their past given names. Are innocence and happiness lost forever when abandoned, or will these children ultimately find their place in the world? This series will take the viewers into the hearts of children while displaying what it means for them to
love and be loved.

ABOUT MEDYAPIM
MEDYAPIM was founded in 1993 by the partnership of Fatih Aksoy (producer & director) and Guzel Sanatlar Holding. It made a very fast and noticeable entrance in to the tv business with smash hit entertainment shows during the first years of private televisions in Turkey. In the year 2000, MEDYAPIM took an innovative step and adapted the famous US Series «The Nanny», marking its place as the first production company in the world to adapt a US series.
Since then MEDYAPIM has produced many successful adaptations of foreign scripted series such as «Desperate Housewives», «Grey's Anatomy», «Shameless», «My Fair Lady» as well as original series such as «Adını Feriha Koydum (A Girl Named Feriha)», «Gullerin Savaşı (War of The Roses)», «Karadaglar (Karadag Family)», "Yasak Elma (Forbidden Fruit)"
In recent years, three Japanese drama formats «Mother», «Woman» and «The Teacher» have been added to MEDYAPIM's noteworthy adaptations with great ratings.
MEDYAPIM has multiplied its production capacity by parenting other production companies including MF Yapım, No:9 Productions and Mednova.
Today MEDYAPIM is recognized as one of Turkey's biggest content producer.
ABOUT MF YAPIM
Founded in 2012 by the partnership of Faruk Bayhan who is experienced for over 40 years in Turkish media industry and MEDYAPIM which is one of the leading production companies in Turkish television sector. MF YAPIM is very successful in format adaptations as well as original productions and adapted many formats from South Korea, Italy and Japan so far. For that matter it is the first production company adapting the Korean drama formats in Turkey. While producing many programs to various tv channels since its start, MF YAPIM co-produce some of the projects together with MEDYAPIM as well. In such co-productions, apart from the synergy of the joint forces of MF YAPIM and MEDYAPIM, the mentality and the working principles of Faruk Bayhan and Fatih Aksoy who are in the television sector for many years manifest themselves. Trying to pick the plots different than the ones that are produced in Turkey so far, MF YAPIM continues its investments on the future projects together with MEDYAPIM.
ABOUT NIPPON TV
Nippon TV is Japan's leading multiplatform entertainment powerhouse and ratings champion broadcaster as well as owner of streaming giant Hulu Japan. One of the biggest successes for the nation's finest producer of all genres of programming is the Emmy Award-winning Dragons' Den/Shark Tank, a globally successful business show format that has more than 40 versions in 186 territories across all continents of the world. Following closely are the successes of scripted formats Mother and Woman -My Life for My Children-, whose Turkish versions have become mega-hits that have gone on to air in nearly 40 territories around the world, a first for a format from Japan. Mother has also been sold to South Korea, Ukraine, France, Thailand, and more, making it one of the most exported formats out of Asia. The company is also achieving great success with BLOCK OUT, its action-packed game show format that has been sold to Thailand, Indonesia and Vietnam, Spain and Holland. Over 90% of its content IP is fully owned by Nippon TV, in addition to well-established businesses that span VOD/live-streaming engineering, animation/film production, fitness clubs, eSports, and android creation/digital mixed reality technology. Nippon TV is leveraging its coveted platform to revolutionize digital media in an ever-changing industry to solidify its presence and brand as a global media leader.