2022
3.31

Nippon TV finalizes deal with Netflix to globally stream its entertainment show "Old Enough!"
Deal marks the first time that a Nippon TV program will stream globally on Netflix in over 190 countries
Format available for international adaptations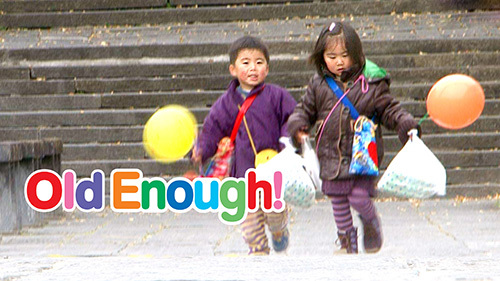 TOKYO, JAPAN – March 31st, 2022 – Having announced its first ever deal with Netflix to stream 30 titles in 24 Asian countries and territories in November 2021, Nippon TV, Japan's leading multiplatform entertainment powerhouse, has partnered once again with Netflix, the world's leading streaming service, to make 20 episodes of its hit entertainment show Old Enough! available worldwide with subtitles in 32 languages from March 31st, 2022. This marks the first time that a Nippon TV program will stream globally to over 190 countries on Netflix.
Old Enough! has been sold as a very popular finished program to Asian countries and is also achieving global success as an unscripted format with previous adaptations in Italy, UK, Vietnam, China and most recently in Singapore, currently in its second season. The format rights for international adaptations throughout the world are currently available by Nippon TV.
Old Enough!, currently airing bi-annually on Nippon TV to stellar ratings, centers on big adventures of adorable children running errands on their own for the very first time - all while being shadowed by an incognito camera crew. Each episode features a child, sometimes with a brother or a sister, from different families. In all cases, the producers meticulously gather research from parents and parental organizations, and parents decide the appropriate challenge for each child, for example, a 2-year-old boy going to the supermarket a kilometer away all by himself to buy food for the dinner his mother requested. When the children hit the streets, it is always under the watchful eye of hidden cameras and the show's safety team, who are disguised as joggers, passersby, or gardeners. No matter the situation, the team is never more than a few steps away. Whether excited and overjoyed about the mission, overwhelmed with fear, or filled with boldness and courage, the children are all irresistibly adorable, which makes viewers feel refreshed and want to cheer for them.
https://www.ntv.co.jp/english/pc/2011/02/old-enough.html
Keisuke Miyata, Head of Sales, International Business Development, Nippon TV commented,
"It is an immense honor to finalize this deal with Netflix that enables viewers the world over to enjoy Old Enough! for the first time. Already a hit in Asia, Old Enough! is quite an appealing format in that it offers great possibilities for localizations, no matter the place and culture. It boasts a wealth of original Nippon TV technical modifications that ensure the children don't notice the cameras so that their most candid expressions and actions shine through. My hope is that the global streaming of Old Enough! brings smiles to people and inspires the production of new local versions that feature adorable children from all parts of the world."
About Nippon TV
Nippon TV is Japan's leading multiplatform entertainment powerhouse and ratings champion broadcaster, as well as owner of streaming giant Hulu in Japan. Over 90% of its content IP is fully owned by Nippon TV and the company has been active in bringing its content to the international market in the form of ready-made programs, formats, and through co-production partnerships.
One of the biggest successes for the nation's finest producer of all genres of programming is the Emmy Award-winning Dragons' Den/Shark Tank, a globally successful business show format that has more than 45 versions in more than 186 countries across all continents of the world. Additionally, their hit drama series Mother has also achieved global success as the most exported scripted format out of Asia, with its format sales to South Korea, Turkey, Ukraine, France, Thailand, China, Indonesia, and Spain. The company is also known for its viewer engaging gameshow formats. BLOCK OUT is an action-packed game show format that has been adapted in Thailand, Indonesia, Vietnam, Spain, and Holland. The award-winning unscripted format Mute it!, and Sokkuri Sweets, have both been produced in the Netherlands. Sokkuri Sweets/Eye Candy is on The Roku Channel in the US, UK, and Canada.
As evident by the company's success, Nippon TV is leveraging its coveted platform to revolutionize digital media in an ever-changing industry to solidify its presence and brand as a global media leader.