2022
4.15

The French adaptation of Nippon TV's entertainment format "Silent Library"
produced by Ah! Production is set to stream on MYTF1 MAX starting April 15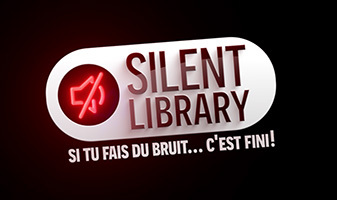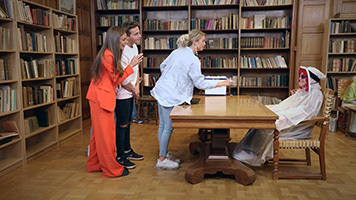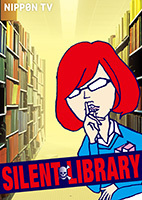 TOKYO, JAPAN – April 15, 2022 – Nippon TV, Japan's leading multiplatform entertainment powerhouse, announced today that Ah! Production, one of France's leading production companies and a Satisfaction Group company, has finalized the production of the French-language version of Nippon TV's entertainment unscripted format "Silent Library".
Titled "Silent Library-Si tu fais du bruit… C'est fini!-" (If you make noise, you lose!), 8 episodes will start to stream on MYTF1 MAX, the TF1's online platform from April 15th 2022.
Silent Library has been a successful original segment on the long-running entertainment show "Downtown No Gaki no Tsukai ya Arahende!" airing on Nippon TV. During the show, all sorts of silly and bizarre pranks are given to the contestants; however, they must keep silent and not burst out laughing at all times no matter what happens because the show takes place in a library.
The show has also been successful as an unscripted format internationally, and has already been licensed to more than 15 countries including the US, the UK, Spain, the Netherlands, Belgium and most recently, Thailand, Vietnam and Mongolia.
Quote from Mikiko Nishiyama, Managing Director, International Business Development, Nippon TV:
"For many years, Silent Library has triggered waves of laughter throughout Japan and is a legend among show segments. Following local versions in over 15 countries, it is an incredible honor to have the charms of this unscripted format be recognized in France at an opportune moment when the streaming market is transforming drastically. I have no doubt it will be a successful title that leaves countless viewers in stitches."
Quote from Antoine Henriquet, founder and CEO of Ah! Production:
"We are very excited by this adaptation of Silent Library. We have always been very fond of this format and cannot wait for the French audience to discover it and have as much fun watching it as we did, making it!"
ABOUT SILENT LIBRARY
Silent Library has been a primetime, family-oriented television sensation in Japan and is considered to be one of the most influential comedy shows in Asia. Created by the popular Japanese comedian Hitoshi Matsumoto, Silent Library has been a successful segment on the long-running Nippon TV Sunday night entertainment show "Downtown No Gaki no Tsukai ya Arahende!".
Contestants must keep silent at all times no matter what happens. There are 6 contestants, 1 librarian, and other people who sit randomly at the tables in the library. During the show, the picked contestant has to endure crazy pranks such as a tarantula on the face or their head in a smelly box. However, they must keep silent because there are in a library.
ABOUT NIPPON TV
Nippon TV is Japan's leading multiplatform entertainment powerhouse and ratings champion broadcaster, as well as owner of streaming giant Hulu in Japan. Over 90% of its content IP is fully owned by Nippon TV and the company has been active in bringing its content to the international market in forms of ready-mades, formats and through co-production partnerships. One of the biggest successes for the nation's finest producer of all genres of programming is the Emmy Award-winning Dragons' Den/Shark Tank, a globally successful business show format that has more than 45 versions in more than 186 countries across all continents of the world. Additionally, their hit drama series Mother has also achieved global success as the most exported scripted format out of Asia, with its format sales to South Korea, Turkey, Ukraine, France, Thailand, China, Indonesia, and Spain. The company is also known for its viewer engaging gameshow formats. BLOCK OUT is an action-packed game show format that has been adapted in Thailand, Indonesia, Vietnam, Spain, and Holland. The award-winning unscripted format Mute it!, and Sokkuri Sweets, have both been produced in the Netherlands. Sokkuri Sweets/Eye Candy is on The Roku Channel in the US, UK, and Canada. As evident by the company's success, Nippon TV is leveraging its coveted platform to revolutionize digital media in an ever-changing industry to solidify its presence and brand as a global media leader.
ABOUT AH! PRODUCTION
Founded in 2009 by Antoine Henriquet, Ah production is part of Satisfaction group since 2019. The production company is specialized in unscripted content, creating in-house formats as well as adapting third-party formats. Amongst its in-house formats, Battle of the Couples (4 series in France) has been adapted in Greece and Villa of Broken Hearts (7 series in France) is currently under option in various territories. Ah production produces a great range of programs, from primetime shiny floor shows (Folk Dance of the Year on France 3), documentaries (Titanic, Detectives, The unexpected story of…), gameshows (Tahiti Quest on Gulli) and reality TV (JLC Family, Mums & Famous).