2022
10.17

Nippon TV and Sera Film Turkey's new co-development format "Baby Shower"

NIPPON TV AND SERA FILM ANNOUNCE FIRST PROJECT "BABY SHOWER"
AS PART OF CO-DEVELOPMENT PARTNERSHIP
"Baby Shower" is a studio game show format targeting family viewers,
featuring games such as giant-size swinging baby cradles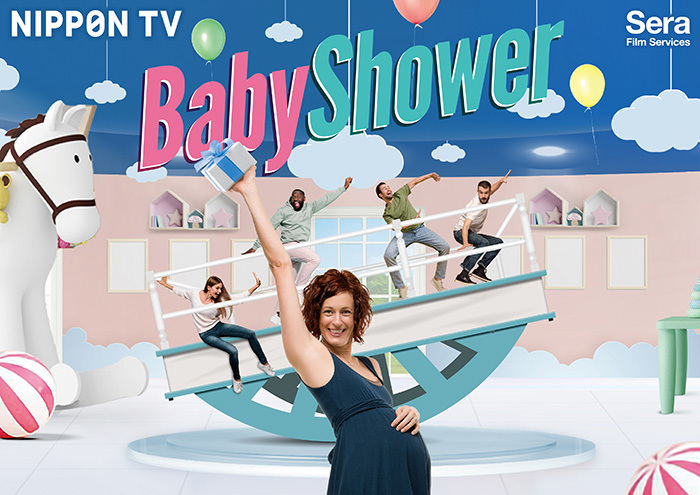 CANNES, FRANCE – October 17, 2022 – Having earlier this year (April 2022) announced their co-development partnership to create a new international unscripted format for global exploitation,
Nippon TV, Japan's leading multiplatform entertainment company, and Sera Film, one of the oldest independent production and distribution companies in Turkey, today announced their first project together titled Baby Shower (30-120 min. eps.), a hilarious and heart-warming studio game show format targeting family viewers. The companies will be offering the new format for the first time at this week's MIPCOM in aims of having it made into international versions.
In Baby Shower, regular baby shower parties will be taken to a completely new level where two groups of expectant parents, family, and friends join forces to tackle games to win prizes of baby items. Baby Shower is about showing emotional support for expectant parents, while making them feel that they are not alone in welcoming and raising children. Various baby items are enlarged to massive proportions, to simulate the fact that things look enormous from children's eyes. Two groups, each supporting a different family, compete against each other in five unique rounds with the aim of winning as many prizes as possible for the expectant Moms and Dads, who are giving commands to the group.
Set in a playhouse-themed studio with gigantic baby items, examples of games include catching balls in giant-size swinging baby cradles, running through obstacle courses while wearing oversized milk bottle costumes, quickly changing diapers on teddy bears passing along hurriedly on a rotating conveyor, and many more. Expectant Moms and Dads will lead the team through these rounds, leading to the final game called Game of Love where Mom and Dad play the game themselves to win the ultimate prize.
Sayako Aoki, Sales and licensing, International Business Development, Nippon TV says:
We have started this partnership with Sera Film hoping to combine Turkish storytelling with the creativity of Japanese fun and crazy game shows, in order to produce a never-seen-before format that is relevant to any viewer across the world. This is exactly what we have done with Baby Shower and the idea came about through numerous discussions between the two companies.
Baby Shower offers laughter, drama, and heart-warming moments that every viewer can relate to. This format will give viewers the opportunity to witness various unique family stories all while being entertained."
Idil Belli, Managing Director, Sera Film, says:
Co-developing Baby Shower together with Nippon TV was both an exciting and fulfilling experience for us. We firmly believe that the format has universal appeal. Who wouldn't want to earn prizes while having fun participating in friendly games? I say "friendly" but, since it involves earning prizes for their children, the families can get very competitive during the plays at the same time. The format also has the flexibility to be adapted to different broadcasting and scheduling requirements.

About Nippon TV
Nippon TV is Japan's leading multiplatform entertainment powerhouse and ratings champion broadcaster, as well as owner of streaming giant Hulu in Japan. Nippon TV owns over 90% of its content IP and the company has been active in bringing its content to the international market in the form of anime, ready-made programs, formats, and through co-production partnerships. One of the biggest successes for the nation's finest producer of all genres of programming is the Emmy Award-winning Dragons' Den/Shark Tank, a globally successful business show format that has 45 versions in more than 186 countries across all continents of the world. Additionally, their hit drama series Mother has also achieved global success as the most exported scripted format out of Asia, with its format sales to South Korea, Turkey, Ukraine, France, Thailand, China, Indonesia, and Spain. The company is also known for its viewer-engaging show Old Enough!, now streaming on Netflix in over 190 countries, and BLOCK OUT, an action-packed game show format that has been adapted in Thailand, Indonesia, Vietnam, Spain, and Holland, the award-winning unscripted format Mute it!, and Sokkuri Sweets, both produced in the Netherlands, and Sokkuri Sweets/Eye Candy on The Roku Channel in the US, UK, and Canada. Nippon TV has also been producing animation programs since the 1950s and attracts fanatic anime fans with legendary series such as Lupin The 3rd, DEATH NOTE, Ouran High School Host Club, HUNTER × HUNTER, Parasyte -the maxim-, that are instantly distributed in almost 200 countries at the same time as its release in Japan. As evident by the company's success, Nippon TV is leveraging its coveted platform to revolutionize digital media in an ever-changing industry to solidify its presence and brand as a global media leader.
About Sera Film
Sera Film, established in 1988, is one of the oldest and most experienced independent companies in the Turkish television and broadcasting industry. Its major business lines are distribution, production, and content creation. Over the years, Sera Film's business mission has been shaped by the trends in the world of broadcasting and new media. Currently, besides distributing programs, Sera Film's involved in licensing of TV characters, development of new formats, provision of content for new media, consultancy services, and field production services to companies interested in shooting in Turkey.