2021
7.20

Nippon TV and Envision Entertainment announce new co-production deal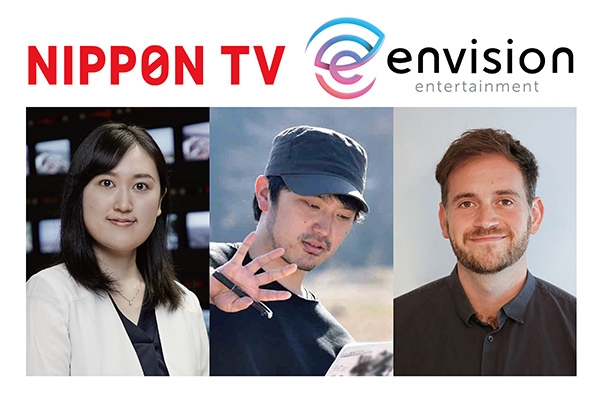 From left, Sayako Aoki (Business Producer), Itaru Mizuno(Creative Director), Michael Nakan(Founder of Envision Entertainment)
July 20th, 2021 – Nippon TV, Japan's leading multiplatform entertainment company, and Envision Entertainment, a premium media company based in London which specializes in creating international scripted projects with global appeal, have announced a new co-production partnership. The Nippon TV and Envision partnership will have creators from the two companies combine their Western and Eastern sensibilities to develop new scripted projects designed for the global market.
The first project in development is an innovative crime drama series which takes place largely online and is perfect for today's digitally connected world. The concept is inspired by the successful scripted format "Double Booking" produced and broadcast by Nippon TV in 2020. The crime story unfolds in a shared online world, with a cast of international characters connecting with each other through the internet and using their online research skills to solve mysteries. As the mystery spreads over international borders, the plot thickens in the least expected way.
A Japanese version of the series is slated with the storyline leading directly into an international English language series. Further details of the coproduction will be unveiled later this year.
This is the first in a pipeline of projects between Nippon TV and Envision. The two companies intend to develop a slate of projects based on Japanese properties with international appeal and have already begun discussions with some of Japan's premiere manga publishers to source IP.
Michael Nakan, Founder, Envision Entertainment, says: "Japan has long between a country which the West has admired from afar, capable of creating world-quality content and developing top notch IP in their local market. We're thrilled to partner with one of Japan's most storied media organisations, Nippon TV, and to work directly with Japanese creative talent to create innovative projects which are organic collaborations between Eastern and Western creatives. We look forward to a long and fruitful relationship with Nippon TV as Japan continues to be a major creative force on the stage of world content."
Itaru Mizuno, Creative Director of "Double Booking", Production Division, Nippon TV, says:
"I have already witnessed great chemistry that happened by the encounter of the Japanese and UK creative teams. It is so exciting to see an Asian narrative being elevated into something universal through this partnership. We are confident of creating a totally unprecedented series full of elements from our modern world where we interact both online and off."
Sayako Aoki, Business Producer, International Business Development, Nippon TV, says:
"The greatest asset we have is our in-house creators with their unique ideas and spirit of challenge which will be essential to this great opportunity. What we are planning to do is to combine a great story with an innovative format to deliver to the global market and I cannot wait to see how our story expands beyond borders."

About Envision Entertainment
Envision Entertainment is a premium London-based media company specialising in international co-productions. Envision has projects in advanced development in the UK, US, Asia, Africa and Europe, and will produce a UK-set series for a major American broadcaster later this year.
Envision projects include collaborations with A-list talent like US showrunner Daniel Cerone (DEXTER), Hong Kong superstar Tony Leung (SHANG CHI AND THE TEN RINGS) and veteran UK producer David Barron (HARRY POTTER). Envision also operates a slate of scripted short-form content for brands.

About Nippon TV
Nippon TV is Japan's leading multiplatform entertainment powerhouse and ratings champion broadcaster as well as owner of streaming giant Hulu in Japan. One of the biggest successes for the nation's finest producer of all genres of programming is the Emmy Award-winning Dragons' Den/Shark Tank, a globally successful business show format that has more than 40 versions in 186 territories across all continents of the world.
Following closely are the successes of scripted formats Mother and Woman -My Life for My Children-, whose Turkish versions have become mega-hits that have gone on to air in almost 50 territories around the world, a first for a format from Japan. Mother has also been licensed to South Korea, Ukraine, France, Thailand, China, Indonesia and Spain, making it one of the most exported formats out of Asia. The Chinese remake of Mother won the Best Drama and Best Actress of the 2020 Best Internet Content Ranking at the 2020 Shanghai International Film & TV Festival Shanghai Internet Summit.
The company is also achieving great success with gameshow formats BLOCK OUT, an action-packed game show format that has been sold to Thailand, Indonesia, Vietnam, Spain and Holland, as well as the award-winning show Mute it! and Sokkuri Sweets, both sold to WBITVP and produced in the Netherlands. Over 90% of its content IP is fully owned by Nippon TV, in addition to well-established businesses that span VOD/live-streaming engineering, animation/film production, fitness clubs, eSports, and android creation/digital mixed reality technology.
Nippon TV is leveraging its coveted platform to revolutionize digital media in an ever-changing industry to solidify its presence and brand as a global media leader.