2021
8.6

Nippon TV's hit show Sokkuri Sweets format to stream on The Roku Channel

Nippon TV's hit show Sokkuri Sweets format to stream on The Roku Channel
Global superstar Josh Groban hosts
sweet new series
'Eye Candy'
on The Roku Channel.
Winner-tastes-all competition to premiere in August.
Roku® is bringing 'Eye Candy,' a sweet, new competition series based on the hit Japanese game show, Sokkuri Sweets, produced by Nippon TV, to The Roku Channel. The series puts teams of celebrities and civilians together as they attempt to identify outrageous edible creations designed to look like every day ordinary objects.
Grammy and Emmy nominated singer, songwriter, and actor, Josh Groban, has been announced as the host of the show.
Celebrity guests of the series include Jamie Chung, Bryan Greenberg, Michelle Buteau, Rachel Dratch, Ana Gasteyer, Tiki Barber, Melissa Gorga, Caroline Manzo, Jeremy Jordan, Bridget Everett, Nico Tortorella, Aparna Nancherla, Nina Agdal, and Michael Ian Black.
The series is executive produced by Jimmy Fox, Linda Lea, Soichiro Shimada and Tom Miyauchi (Nippon TV), Chrissy Teigen, and Luke Dillon (3 Arts Entertainment); co-executive produced by Stephanie Valentin, Amy Stanford, and Charlie Van Vleet; and produced by Main Event Media, an All3Media America company, Huntley Productions and Good Egg Entertainment.
'Eye Candy' is among more than a dozen Roku Original programs to premiere on The Roku Channel for the first time anywhere. Premiere date for all 10 episodes to be announced later.
'Eye Candy' Host, Josh Groban: "I first saw this show in Japan when it was called Sokkuri Sweets and was obsessed with how fun and silly it was. To be the ring master of such insanity is a dream. Bon Appetit."
Roku's Head of Alternative Programming, Brian Tannenbaum: "'Eye Candy' is pop-culture at its finest. We've tapped into a viral phenomenon, putting viewers on a wild ride full of colorful, confectionary concoctions and inviting them to figure out, is it real or is it cake? For makers everywhere, there's no sweeter binge than 'Eye Candy.'"
Tom Miyauchi, Head of Formats, International Business Development, Nippon TV: "The sweet, fun sensation of 'Sokkuri Sweets' took Japan by storm with stellar ratings on Nippon TV networks. 'Eye Candy' is produced sweeter and more hilarious than ever, and it will be a tasteful addition to Roku Original programs."
●About 'Sokkuri Sweets':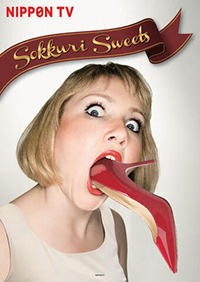 Taste it, to test it! This show is worth sinking your teeth in!
A gameshow in which celebrities try to spot sweets that look identical to objects that surround us.
Masterpieces by top-notch pastry chefs challenge their eyes.
Whether it's a shoe, a plant, or a doorknob, they must distinguish real from fake.
Once they decide, there's only one way to find out: by taking a big bite!
As the creations seduce celebrities' senses, this sweet game could unfold not to be that sweet.
Those sweets are so deceptive even when looking closely. Celebrities draw up their courage and open their mouths wishing to taste something great, but the shoe could turn out to be just a worn-out shoe.
It is even more shocking if they see their wallet come out and a competitor is about to eat it.
The spectacle of gorgeous celebrities filling their mouths with everyday objects is simply hilarious!
About The Roku Channel
Launched in 2017, The Roku Channel is the home of free and premium entertainment on the Roku platform. It features a diverse lineup of more than 40,000 free movies and programs and 190+ free live linear television channels. The Roku Channel licenses and distributes content from more than 175 partners.
In addition to Roku devices, The Roku Channel is available on Web, iOS and Android devices, Amazon Fire TV and select Samsung TVs and can be accessed internationally in the U.S., Canada and the U.K.
About Main Event Media Main Event Media produced 'Eye Candy' based on Nippon TV's 'Sokkuri Sweets' format.
Main Event Media, an All3Media America company, is a multi-time Emmy Award-winning production company based in Los Angeles. Founded by producer Jimmy Fox, the company creates content across multiple genres including scripted, documentary, reality and original podcast production. The company's recent work includes the Emmy-winning CNN series "United Shades of America," Peacock comedy series "Punky Brewster," HBO Max docuseries "Sweet Life: Los Angeles," and the PGA Award-winning YouTube Originals series "Defying Gravity: The Untold Story of Women's Gymnastics," as well as having produced series for Netflix, Amazon Prime, Snapchat, Nickelodeon, Roku, E!, TNT, Discovery Channel, Paramount and CNBC. Main Event has been recognized for its work garnering Critics Choice, Critics Choice Real TV, Sports Emmy, TCA, PGA, NAACP and International Documentary Association (IDA) nominations.
About Nippon TV
Nippon TV is Japan's leading multiplatform entertainment powerhouse and ratings champion broadcaster as well as owner of streaming giant Hulu in Japan. One of the biggest successes for the nation's finest producer of all genres of programming is the Emmy Award-winning Dragons' Den/Shark Tank, a globally successful business show format that has more than 40 versions in 186 territories across all continents of the world.
Following closely are the successes of scripted formats Mother and Woman -My Life for My Children-, whose Turkish versions have become mega-hits that have gone on to air in almost 50 territories around the world, a first for a format from Japan. Mother has also been licensed to South Korea, Ukraine, France, Thailand, China, Indonesia and Spain, making it one of the most exported formats out of Asia. The Chinese remake of Mother won the Best Drama and Best Actress of the 2020 Best Internet Content Ranking at the 2020 Shanghai International Film&TV Festival Shanghai Internet Summit.
The company is also achieving great success with gameshow formats BLOCK OUT, an action-packed game show format that has been sold to Thailand, Indonesia, Vietnam, Spain and Holland, as well as the award-winning show Mute it!, and Sokkuri Sweets, both sold to WBITVP and produced in the Netherlands.
Over 90% of its content IP is fully owned by Nippon TV, in addition to well-established businesses that span VOD/live-streaming engineering, animation/film production, fitness clubs, eSports, and android creation/digital mixed reality technology. Nippon TV is leveraging its coveted platform to revolutionize digital media in an ever-changing industry to solidify its presence and brand as a global media leader.