2021
9.13

Nippon TV heads into the fall with two new formats
Money or Junk is an unscripted business survival game show format, and Life's Punchline is a scripted dramedy series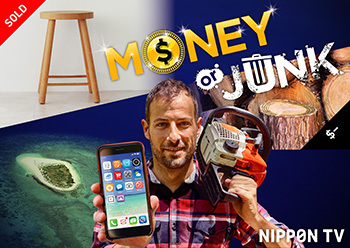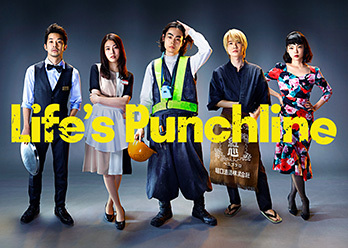 Japan's leading multiplatform entertainment powerhouse, announced today that the company will head into fall with two new formats. First up is Money or Junk (60min. – 105min. eps.), an unscripted business survival game show format where contestants are sent to remote locations and compete by creating new value out of seemingly junk. Next is Life's Punchline (10 × 60'), a scripted dramedy series that tells the story of three young comedians who face many obstacles after they decide to give up on their dream of pursuing comedy and sisters who cross paths with them through their skits. Both formats just recently aired on Nippon TV to stellar ratings. The announcement was made by Mikiko Nishiyama, Managing Director, International Business Development, Nippon TV.
"Our two new formats for this fall are unique in that their idiosyncrasies and quirks that give them quite the twist", commented Nishiyama. "Following in the footsteps of Nippon TV's highly successful business format Dragons' Den/Shark Tank, with more than 40 versions in 186 territories, Money or Junk was created with a business concept at its core, updated with craft, survival elements for the entire family audience in the digital era. Additionally, Life's Punchline has 'clues' that will make viewers drop their jaw in surprise and laughter. The story centers around a comedy trio, and each episode opens with a comedic skit which eventually blends into bigger plots of the drama. Vividly depicting each character's worries and emotional conflicts in their late 20s that stem from their dream, job, family, and romantic interest, viewers are sure to find someone they can relate to."
Money or Junk hit the airwaves in July 2021 on Nippon TV to stellar ratings among children, teenagers, and 20-to-34-year age group females. With the concept of "Make money out of nothing!", contestants compete by self-monetizing in remote locations using available resources to sell various items on e-commerce apps. All it takes is a smartphone in one hand and the drive to make money anytime, anywhere. Located in abandoned factory sites or remote villages, each contestant will try to create value in what seems like junk. Whoever earns the most cash within the time limit is named the winner. It is a thrilling new game show that will test who can come out on top of this zero-to-cash-scramble. Due to its high ratings, the format has already earned a second slot on Nippon TV for later this year.
In addition, Life's Punchline was broadcast weekly on Nippon TV from April to June 2021 with almost 14 million total views to date on VOD and has now become the most viewed series on the platform from Nippon TV's Saturday night slot. The series follows the story of three "masters of comedy" who decide to give up on their dream after struggling to make their big break and sisters living in the next apartment who are also lost without a meaningful goal in life. All in their late 20s, they find themselves stuck in a situation that anyone would call a failure. However, the obstacles they face become a telling prelude into a glittering future.
Other new scripted formats will be produced by Nippon TV for later this year and 2022, including the co-production project of an innovative crime drama series with Envision Entertainment in London, which was announced in July.

About Nippon TV
Nippon TV is Japan's leading multiplatform entertainment powerhouse and ratings champion broadcaster as well as owner of streaming giant Hulu in Japan. One of the biggest successes for the nation's finest producer of all genres of programming is the Emmy Award-winning Dragons' Den/Shark Tank, a globally successful business show format that has more than 40 versions in 186 territories across all continents of the world. Following closely are the successes of scripted formats Mother and Woman -My Life for My Children-, whose Turkish versions have become mega-hits that have gone on to air in almost 50 territories around the world, a first for a format from Japan. Mother has also been licensed to South Korea, Ukraine, France, Thailand, China, Indonesia and Spain, making it one of the most exported formats out of Asia. The Chinese remake of Mother won the Best Drama and Best Actress of the 2020 Best Internet Content Ranking at the 2020 Shanghai International Film&TV Festival Shanghai Internet Summit. The company is also achieving great success with gameshow formats BLOCK OUT, an action-packed game show format that has been sold to Thailand, Indonesia, Vietnam, Spain and Holland, as well as the award-winning show Mute it!, and Sokkuri Sweets, both sold to WBITVP and produced in the Netherlands. Sokkuri Sweets has also been adapted by The Roku Channel in the US, UK, and Canada. Over 90% of its content IP is fully owned by Nippon TV, in addition to well-established businesses that span VOD/live-streaming engineering, animation/film production, fitness clubs, eSports, and android creation/digital mixed reality technology. Nippon TV is leveraging its coveted platform to revolutionize digital media in an ever-changing industry to solidify its presence and brand as a global media leader.