2021
10.6

Nippon TV expands its VTuber business overseas through its V-Clan Network and new deal with VShojo
Capitalizing on its content creation expertise, VTuber talent pool, and technical prowess, Nippon TV kicks off development and production of programs and live streaming branded events for the global audience

A live-streaming music event featuring VTubers held by V-Clan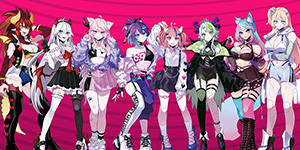 VShojo VTubers working primarily in North America
TOKYO, JAPAN – October 6, 2021 – Nippon TV, Japan's leading multiplatform entertainment powerhouse, announced today that it is bringing what was a new business initiative into full swing. The company is expanding V-Clan, its VTuber business, overseas to develop and produce VTuber content. A VTuber, short for Virtual YouTuber, is an avatar YouTuber created with 2D or 3D illustrations. As part of its efforts to expand the network internationally, Nippon TV is partnering with VShojo, a major VTuber talent agency in North America. Within this new partnership, eight VShojo VTubers who worked primarily in North America will be joining Nippon TV's V-Clan Network. The announcement was made today by Motoyuki Ooi, New Business, President's Office at Nippon TV.
Officially launched in 2018 with the vision "to take VTubers to the next stage," Nippon TV's VTuber business has operated V-Clan Network, which supports VTubers' activities through TV programs, streaming events, collaborations with brands, and other initiatives, and V-Clan Studio, which produces shows, streaming events, and branded content featuring VTubers. The network currently boasts over 300 VTuber participants and approximately eight million subscribers. V-Clan website: https://v-clan.jp/produce_en/
In addition, this new partnership with VShojo paves the way for content to be created internationally while leveraging Nippon TV's production expertise to showcase VTubers, as well as English language programs starring VTubers belonging to the V-Clan Network.
Motoyuki Ooi, New Business, President's Office, Nippon TV, commented, "VTubers are increasing at a surprising speed not only in Japan, but also globally and I am confident they will continue to grow as a new genre in entertainment. V-Clan will utilize the development and production prowess that Nippon TV has acquired from creating programs and will also tap into the experiences and knowledge acquired from operating the VTuber business, to deliver content that will delight fans the world over. Our partnership with VShojo is a significant step in that direction and I look forward to taking advantage of each other's strengths to embark on new initiatives that transcend borders."
Justin "theGunrun" Ignacio, CEO, VShojo Inc. commented, "As the VTubing industry matures, I value learning and respecting the people who paved the way. At VShojo we recognize Japan as the forefathers of the culture we wish to grow internationally.
By partnering with Nippon TV, we see an opportunity to work with someone who respects the creative freedom we offer our talent and supports our broader vision. Because Nippon TV is a powerhouse in the Japanese market and we are having a lot of success in the US, this collaboration will enable both of our companies to thrive on a global scale while establishing important milestones in the VTuber industry."
Among the most distinctive content Nippon TV has produced in this realm are VILLS, a paid live-streaming event that created an enormous amount of buzz and ranked in the sixth place on Twitter's worldwide trends, and VTuber Fes. UnderLine Powered by COMP, a sponsored live-streaming music event that mobilized over 60,000 people in one day to put together a show massive enough to warrant a stadium. In addition, the company promotes its VTuber business in its main business of content production for television. In July 2021, Nippon TV's program Project V put real-life entertainers and
famous VTubers in the same space to offer a fresh television experience of in-the-flesh and virtual guests getting together to take on battles and games.
Going forward, V-Clan plans to take its promotion of programs and events and production of music and content that feature famous VTubers to greater heights. Moreover, V-Clan will roll out media initiatives that focus on the broadcast of the television series Project V, with VTubers as its main cast, and Up-Station, a website specializing on all things VTuber.
About VTuber
A VTuber, short for Virtual YouTuber, is an avatar YouTuber created with 2D or 3D illustrations. Their appearances range widely from girls who look like idols to animals. Making this possible is CGI technology that captures movements of the human arms and legs, as well as intricate expressions, and simultaneously reflecting them on an avatar. It was around 2017 when Japan pioneered this innovative streaming technology that puts avatars to the forefront without showing any people, allowing them to entertain audiences with their abundant gestures and expressions, as well as enabling them to communicate. Since then, their popularity gradually increased and today, VTubers are active in all parts of the world. What's more, VTubers have branched out from YouTube and can be seen in various content and events.

About Nippon TV
Nippon TV is Japan's leading multiplatform entertainment powerhouse and ratings champion broadcaster as well as owner of streaming giant Hulu in Japan. One of the biggest successes for the nation's finest producer of all genres of programming is the Emmy Award-winning Dragons' Den/Shark Tank, a globally successful business show format that has more than 40 versions in 186 territories across all continents of the world. Following closely are the successes of scripted formats Mother and Woman -My Life for My Children-, whose Turkish versions have become mega-hits that have gone on to air in almost 50 territories around the world, a first for a format from Japan. Mother has also been licensed to South Korea, Ukraine, France, Thailand, China, Indonesia and Spain, making it one of the most exported formats out of Asia. The Chinese remake of Mother won the Best Drama and Best Actress of the 2020 Best Internet Content Ranking at the 2020 Shanghai International Film&TV Festival Shanghai Internet Summit. The company is also achieving great success with gameshow formats BLOCK OUT, an action-packed game show format that has been sold to Thailand, Indonesia, Vietnam, Spain and Holland, as well as the award-winning show Mute it!, and Sokkuri Sweets, both sold to WBITVP and produced in the Netherlands. Sokkuri Sweets has also been adapted by The Roku Channel in the US, UK, and Canada. Over 90% of its content IP is fully owned by Nippon TV, in addition to well-established businesses that span VOD/live-streaming engineering, animation/film production, fitness clubs, eSports, and android creation/digital mixed reality technology. Nippon TV is leveraging its coveted platform to revolutionize digital media and solidify its brand as a global media leader.